Create, send, receive and preserve in accordance with regulations the XML-UBL Orders sent to NSO
The NSO Order Management solution is available
The Nodo Smistamento Ordini (Order Sorting Node, NSO) is the system through which public administrations and suppliers, also wit hthe help of intermediaries, exchange electronic documents certifying the ordering of purchases of goods and services.
What are the communication channels?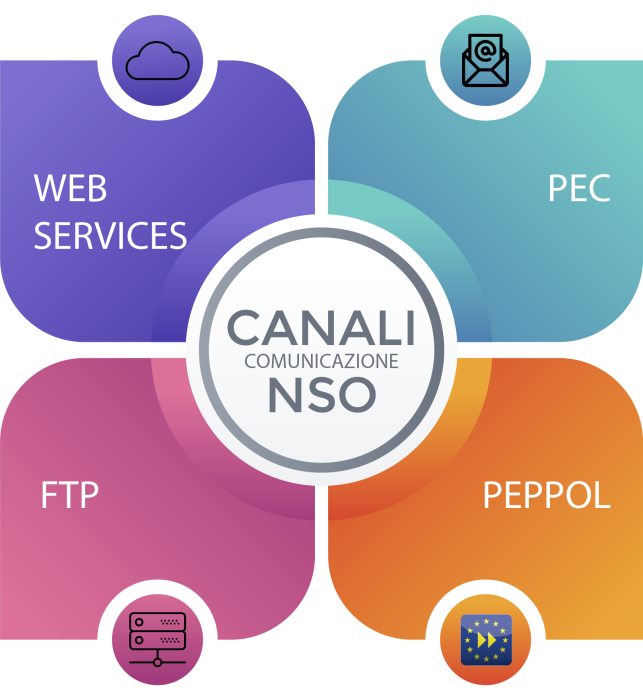 Sending and receiving documents to and from NSO can take place via 4 communication channels similar to those used for the transmission of electronic invoices, with the addition of PEPPOL: WebServices – FTP – Registered eMail PEC – PEPPOL infrastructure
What is the PEPPOL Channel?

PEPPOL features an addressing system that allows the Sender to know the Identification of the Recipient (endpoint) to whom the Message must be delivered. The transmission of messages to NSO is carried out by Access Points in a seamless way for operators.
Top Consult is a Peppol certified Access Point. Top Consult has an accredited Peppol Access Point, allowing the management and transmission of standardized documents in the UBL language.
Furthermore, Top Consult achieved the SMP (Service Metadata Publisher) certification, which allows it to manage its infrastructure of identifiers on the PEPPOL network.
The NSO Order Management Solution
Based on the TopMedia Social NED document platform, it is the ideal tool for sending and receiving orders, for managing exchange flows and for their subsequent law-compliant preservation.
The 2018 Budget Law at paragraph 411 states that "the issue, transmission, storage and archiving of documents certifying the ordering and execution of purchases of goods and services must be made in electronic form." Starting from electronic invoicing, then to orders ... tomorrow there will be delivery notes and work progress reports ... the digitization process is now underway ... Trust an expert partner such as Top Consult to start managing all digital documents now effectively and efficiently!
Need more info? Fill-in the form to be contacted by one of our consulting specialists.